By Uvoguepaw |
21
November 2018 |
0
Comments
How to train a dog (Teaching the "Listen")
Teaching a dog to Listen.

1.Understand the purpose of the "listen" command.
Also known as the "watch me" command, the "listen" is one of the first commands you should teach your dog. You'll use it to get your dog's attention so you can give him the next command or direction. Some people just use their dog's name instead of the "listen." This is especially useful if you have more than one dog. That way, each individual dog will know when you want it to focus on you.
2. Prepare a handful of treats.
These may be dog treats you buy at the store, or hot dogs cut into small pieces. Choose a treat that you know your dog loves and will perform for.
3. Stand near your dog.
Don't engage with him, though. If he reacts to your presence, stand still and look away until he loses interest.
4. Say "Listen" in a quiet but firm voice.
If you're using your dog's name instead of the "listen" or "watch me" commands, say his name instead. The tone and volume should be the same as if you were calling a person's name to get their attention.
5. Don't raise your voice to get his attention.
Save the big booming voice for "life saving" situations, like if he escapes his fence or leash. If you rarely raise your voice, you'll get your dog's undivided attention when you do need to yell. But if you are always "loud" to your dog, they will ignore that sound and tune it out. Shouting will no longer be regarded as something that commands special attention.
Dogs have excellent hearing — far better than ours. A fun twist on this command is to see how quietly you can whisper and have your dog respond. People will think you are the "dog whisperer" when you can get him to perform commands with hardly a whisper.
6. Give an immediate reward for the desired response.
As soon as your dog stops what he's doing and looks toward you, praise him and give him a treat. Make the click sound before giving praise or a treat if you're using clicker training.
Remember that your response must be immediate. The faster you reward him, the better he'll understand the relationship between command, behavior, and reward.
7. Discontinue treats eventually.
Once he's mastered the command, you shouldn't give him treats for performing it; however, you should still use your clicker or give verbal praise.
Weaning the dog off treats is important because he may start to expect treats all the time. You'll end up with a dog who only performs when you have food.
Praise your dog regularly even after he's mastered a command, but treat him intermittently. That's the way to keep it solid in his doggy vocabulary.
Once he's mastered command, you can use treats to shape the behavior to be faster or more accurate. He will soon realize that the treats come with the command or activity that follows the "listen."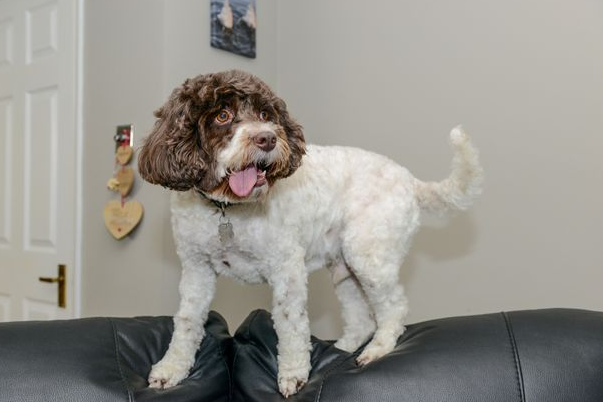 Leave a Reply
Your email address will not be published.Required fields are marked. *